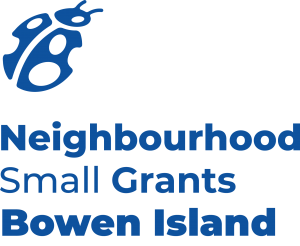 What does community building look like during a pandemic? Public health orders to physically distance ourselves from others has had the unintended impact of creating more social isolation. But people are stepping up to counteract this. Many are already self-organizing online to support each other out of their own pockets.
Just a few weeks ago the Bowen Island Community Foundation announced the Neighbourhood Small Grants (NSG) program in partnership with Bowen Island Municipality and the Vancouver Foundation. Now, as the COVID-19 crisis continues to bring unprecedented change to our daily lives, the program has been relaunched as the Responsive Neighbourhood Small Grants (R-NSG) program.
This new program will fund small-scale projects that reduce social isolation. R-NSG projects will adhere to physical distancing guidelines in response to the COVID-19 global pandemic and invite individuals to dream up creative projects that address the following areas: tackle and address social isolation; build community strength and resilience; and foster community creativity and wellbeing.
The R-NSG grant stream provides grants of up to $500 for projects that connect people socially or involve sharing skills or talents with each other. Projects must comply with public health orders for physical distancing. Examples of such projects are delivering care packages to elderly or immunocompromised people in the neighbourhood. Responsive NSG also supports projects that involve sharing skills or talents through online platforms. Examples include hosting a webinar on a topic you know well, teaching an exercise class, or digital musical performance. Out of your entire project budget, you may spend up to $350 providing honorariums for those sharing skills. This includes yourself.
Now more than ever, Bowen needs to stay connected with our neighbours and community members. This will keep our community resilient and able to recover sooner after the crisis.
The bottom line is that we're flexible; we're eager to support inspiring ideas and creative projects. We want to use Responsive Neighbourhood Small Grants to strengthen community bonds, to keep us all connected.
Get more information on the Responsive Neighbourhood Small Grants and apply at  https://bowenfoundation.com/responsive-neighbourhood-small-grants/.  There is no deadline and applications will be accepted until our 2020 budget is depleted. We will be accepting applications throughout this crisis and funds can typically be distributed within two weeks of applying.
---
Published in the Bowen Island Undercurrent
April 23, 2020