On Easter weekend, the very first BICF Neighbourhood Small Grant (NSG) project was launched. The idea behind the NSG program is to connect neighbours, but how do you do this in these times of social distancing? Enter the Easter Bunny.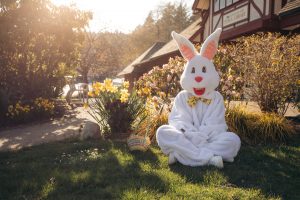 Due to the pandemic, Bowen Island Community Recreation cancelled the annual Great Bowen Egg Hunt, regularly attended by approximately 75 children and a great source of family fun on the Easter long weekend. After approaching BICR to utilize their connections with THE bunny and FB page with reach to many Bowen families, Sheana Stevenson applied to the Community Foundation for a grant to gain funds to support the Undercurrent with advertising, purchase prizes from Cocoa West, pay for gas money and provide a small honorarium for a local photographer to use his extensive talents to put together a photo album, in a very short timeline (think, less than a week!)
Emmett Sparling Photography came on board immediately and tackled the project lending his professionalism and talent to the photos and location selections. The result was an inspiring, hopeful, and beautiful array of photos of THE bunny in locations across our island as Bowen Islanders had the opportunity to submit their best guesses and be entered in the draw to win three Cocoa West gift certificates.
We noticed on Facebook that Quentin Beck and her son Beck Morissette, as well as others, decided to take the Easter Challenge a step further. We got in touch with Beck and he said "my mom and I decided to take this Easter Challenge to the next level. We took a picture at each location trying to recreate the pictures taken by Emmett Sparling. We love that this contest was made in these rough times. Thank you so much, this Easter contest was EGGcellent!"
Stay tuned as your Community Foundation will be announcing other Neighbourhood Small Grant recipients very soon! We are still accepting grant applications and look forward to hearing all about your great idea. The NSG application can be found at  https://bowenfoundation.com/responsive-neighbourhood-small-grants/
(Sheana Stevenson was the first recipient of the grant and in collaboration with many others (Katherine Gish, Lisa Wrinch, Emmett Sparling, Natasha Currah, Kat Stephens, and Shauna Jennings), the idea developed into the Great Bowen Bunny Search Contest.)
---
Published in the Bowen Island Undercurrent
April 23, 2020