Our Mission
Engaging the community and inspiring generosity that will benefit Bowen Island for generations
Our Vision
An enriched quality of life for all Bowen Islanders
---
What is a Community Foundation?
A community foundation is a registered charity that establishes and manages permanent endowment funds whose purpose is to benefit the residents of a geographical area. Community foundations pool charitable gifts from donors to create endowment funds.
An endowment is an investment fund whereby the principal amount is invested and only the interest earned is spent each year. When a donation is placed in an endowment fund, the gift keeps on giving year after year. Thus, an endowment fund is a long term resource for the community.
A Community Foundation plays three key roles:
Serves donors who wish to make meaningful and lasting contributions to the well-being of their community
Serves charitable organizations that provide programs and services for the community
Serves the community at large who look for leadership in developing and preserving charitable capital for the benefit of the community.
The Bowen Island Community Foundation is one of over 200 community foundations across the country. We are connected by our national network, Community Foundations of Canada, and together we help Canadians invest in building strong and resilient places to live, work, and play.
How does your Community Foundation work?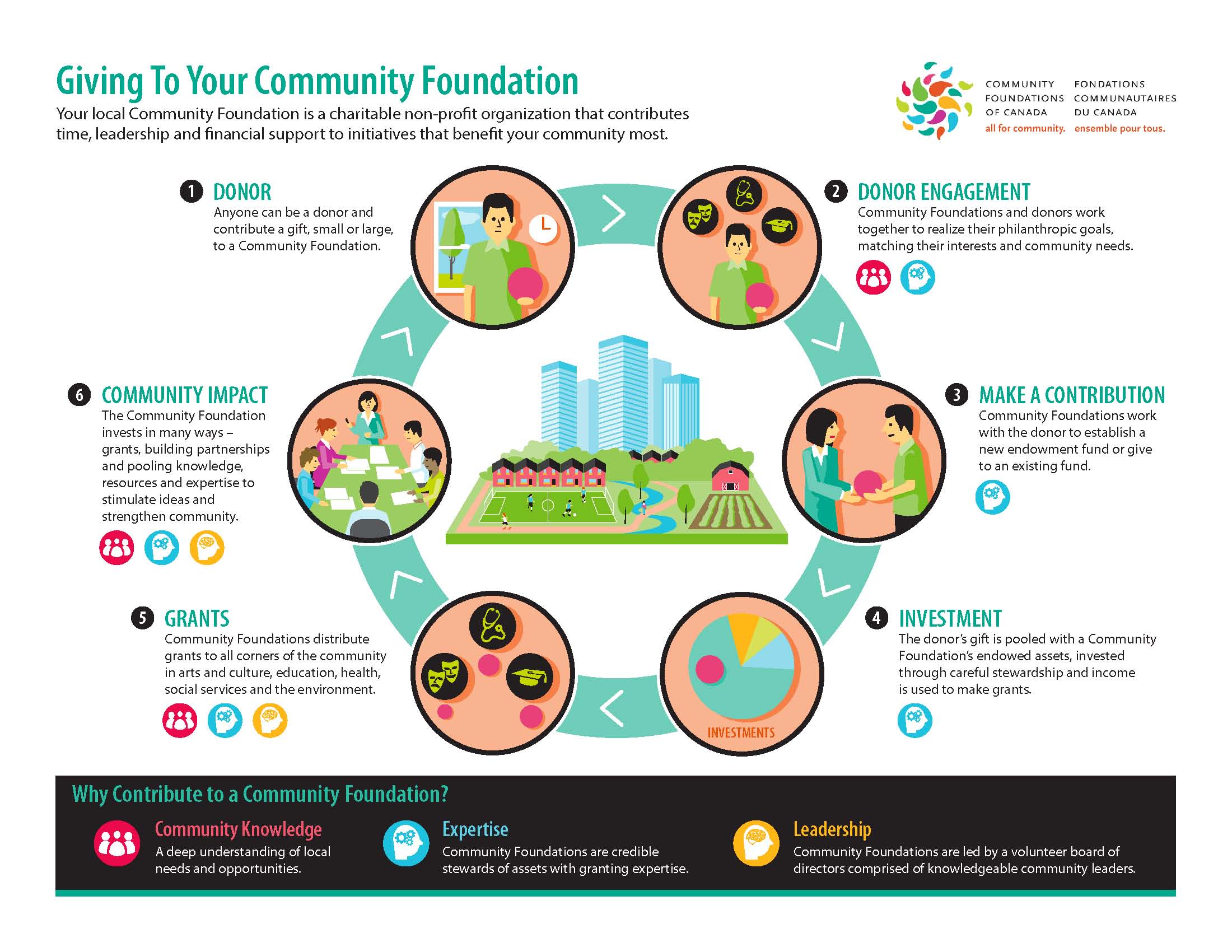 The Bowen Island Community Foundation allows you to give back to Bowen
The Bowen Island Community Foundation is like the long-term savings account for the community. Our objective is to help donors give back to the community in a way that creates personal meaning for them and has impact on the community.
The Foundation gives donors the unique opportunity to create their own legacy for the community in the form of an endowment fund. Gifts to endowment funds are pooled and form assets for the community. Earnings from these professionally managed assets are granted back into the community each year to registered charities who are working to improve the community.
Our endowment funds include the main Bowen Island Community Impact Fund and named funds that support specific community projects (arts, the environment, seniors) and post-secondary study.
In addition to making grants, the Foundation brings people and organizations together to address pressing community issues. We are leaders in identifying community needs and advocating for meaningful social change.
---