What is Vital Conversations?
Vital Conversations is an event sponsored by the Foundation to understand the community's needs and priorities from the people that live on Bowen Island. These insights then guide the Foundation's work for community granting. The first Vital Conversations was held in 2014, the second in 2017 and the most recent exchange took place in June of 2023. For each of these events, Bowen Islanders with diverse opinions came together for over three hours for discussions centered around four questions: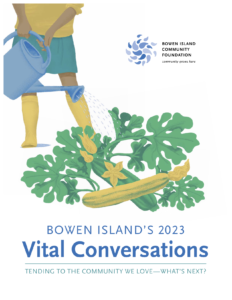 When you picture a strong community, what stands out in your mind?
What is Bowen doing well?
Where does Bowen have opportunities for improvement within our community?
What are possible solutions and actions for these improvement opportunities?
Based on the discussions and stories from the Bowen Island Community Foundation's 2023 Vital Conversations event, as well as input from community members in an island-wide survey, we were able to see a clear picture of the priorities and opportunities for Bowen Island moving forward:
COMMUNITY BUILDING: We are all on the same boat
ENVIRONMENTAL PROTECTION: The birds and the bees need help

EQUITY, DIVERSITY, AND INCLUSIVITY: Different but the same

HOUSING: A place to call home

TRANSPORTATION: Getting from Point A to Point B

VISITOR MANAGEMENT: A balancing act

VOLUNTEERISM: Raise your hand

YOUTH AND SENIORS: The circle of life builds community cohesiveness
Download a copy of the 2023 Vital Conversations Report.
Download a copy of the 2017 Vital Conversations Report.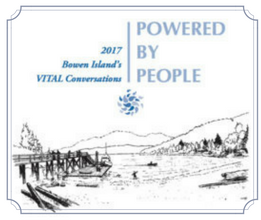 Download a copy of the 2014 Vital Conversations Report.