Sally Fitz-Gibbon had a great idea. She wanted Bowen Islanders with disabilities to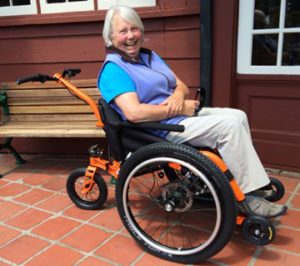 be able to enjoy Bowen's trails. Her solution – her great idea – came in the form of an all terrain Mountain Trike, a trail-friendly wheelchair, powered by the energy of able-bodied friends and family.
That's where the Bowen Island Community Foundation stepped in. Sally knew of the Foundation's annual provision of community impact grants, a total of $27,500 in funds this year, to be used to support a range of endeavours within our community – and she applied.
The Foundation's "For Bowen, For Ever" October 20th event at Cates Hill Chapel was the launch of its 2015 fundraising campaign, but it was also an opportunity to celebrate the present – to announce this year's community impact grant recipients.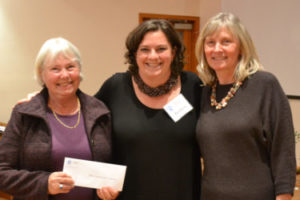 Bowen Island Library and Sally Fitz-Gibbon – $5,850
 As highlighted above, the application by Sally Fitz-Gibbon tells a great story about how a small, good idea put forward by a Bowen Island resident can blossom into a well-considered, well-supported, community initiative. The grant will allow the Bowen Island Library Foundation to buy a Mountain Trike Push and gift it to the Library, and will enable Bowen Island residents with mobility issues to experience our beautiful trails. The Library will make the wheelchair trike available to Bowen Island residents to borrow for the day in the same way they borrow items for the Med Shed (however, in this case, with a credit card deposit).  The Library will also assume responsibility for maintaining and storing the bike, and will insure it as part of their insurance policy through the Municipality.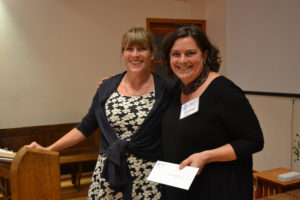 Clean Energy Canada – $12,500
This Bowen Island non-profit organization will leverage their grant  to install solar panels at the Bowen Island Community School, an initiative that will feature both savings in energy and a strong educational component.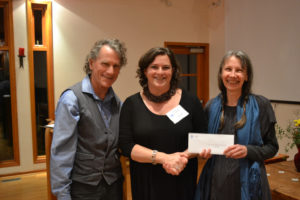 Tir-Na-Nog Theatre School Society – $6,160
The lighting equipment that Jack and Julie Headley are using at Tir-na-nOg is fast reaching the end of its life – it is a system that was donated and installed by a patron 25 years ago, and it is already starting to fail. The funding request for a new lighting control console and two 6-channel dimmer strips is expected to last and meet growing needs for 20 years, with new features that will expand the school's capacity to teach lighting techniques to Tir-na-nOg students.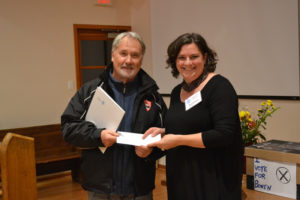 Bowen Island Football Club – $2,990
The competitive men's football club has been awarded a one-time grant to bridge the gap between 2015-16 team costs and their projected income (including player fees). The monies will give the relatively new team a chance to build its player base without concern for player means; build corporate sponsorships; replace uniforms and equipment; reduce travel costs for players by chartering Peter King's bus on occasion; and, offer high-level guest coaching. In their application, the team's Head Coach, Rick Gruneau, demonstrated vision and leadership particularly in relation to the intergenerational connections being made by the men on the team, and the team's work in training future coaches for Bowen Island's youth teams.