At the Community Foundation AGM on April 21st, more than $40,000 in grants to support community initiatives were announced, including funds awarded from the Foundation's Community Impact Grants, the Maggie Cumming Legacy Fund and the Knick Knack Nook Grants.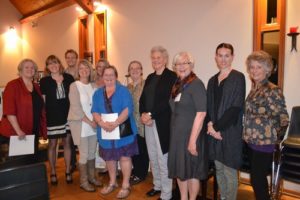 (2016 Grant Recipients Photo: Kim Stephens)
COMMUNITY IMPACT GRANTS
Snug Cove House Society: Specialized Facilities Design – $2,500
This grant will support Snug Cove House, which aims to create supportive living for seniors on Miller Road. Grant monies will enable Snug Cove House Society to engage an expert, who specialized in the design of living spaces for aged care facilities, to produce drawings and sketches for the suites and amenities spaces, and purchasing lists and sourcing suggestions. The grant will help defray these costs, and allow the project to remain on its timeline.
Better Meals Program – $1,500 (from the Maggie Cumming Legacy Fund)
This grant will ensure high quality meals are delivered for free to people in need of meal support all around the Island.
Bowen Island Community Schools: Community Playground Upgrades – $5,000
The Community School Association is in the process of raising $41,968 (including $10,000 in labour from the School District) to cover the costs and installation of three new pieces of equipment at the Bowen Island Community School playground. The pieces will replace two others that are at the end of their life, and will likely be removed this summer. The new pieces were selected by a community-wide vote of parents and kids, and will have a 25-year warranty. This playground is the only publicly-accessible playground on Bowen Island. The Committee hopes to finish fundraising and install the pieces in summer 2017. The Foundation's contribution, plus the Knick Knack Nooks' $1,380 contribution, will hopefully offer leverage for the remaining $18,000.
Bowen Island Museum and Archives: Garden Revitalization – $7,500
This grant will help fund an innovative garden and green space revitalization project in conjunction with Telus. The Museum is undertaking an exciting project ahead of its 50th anniversary in 2017 that will see a new garden gathering place emerge at Four Corners. The project has been carefully put together in close collaboration with Telus, which owns the land next to the Museum, and which is prepared to tear down an unsightly fenced area near the corner to release a new green space and open up the corner at Trunk Road and Miller Road. The project will create an accessible path and gathering space for seniors living nearby, and for all Island residents.
Bowen Children's Centre: Infant Toddler Annex – $10,000
This grant to the Bowen Children's Centre will help fund a new Infant and Toddler Annex to the existing building at 650 Carter Road, and will allow the Children's Centre to offer licensed care for eight infants and toddlers. It's a significant project that includes $30,000 in volunteer effort, and (hopefully) a significant grant from the Province. The grant from the Community Foundation will reduce the amount of the mortgage taken out on the existing building, and help keep fees low for all parents.
KNICK KNACK NOOK GRANTS
The Bowen Island Community Foundation Grants Committee worked with members of the Knick Knack Nook (KKN) Grants Committee, Dorothy Geisler and Betty Dhont, with the assistance of KKN President Donna Scorer, to evaluate applications and determine the grants to be awarded. The Knick Knack Nook grants fall under two broad categories: social sustainability and environmental sustainability.
Social sustainability grants
Community Learning (Bowen Island Community School), in partnership with Bowen Children's Centre: Goose on the Loose Program for Fall 2016 – Winter 2017 – $500
This will provide programming for young families of kids 0-2 at Family Place, and supports family health and literacy skills.
Caring Circle Health & Wellness Society of Bowen Island: Befriending Program – Volunteer Visitors –  $1,000
This will support a new program that will see volunteers visit with those in our community who want more social contact and connection. This will benefit seniors, but may also be helpful for a young parent or someone temporarily immobilized. The grant will provide funds for promotional and training materials.
Bowen Island Community School Association: BICS Community Playground Upgrade – Spring 2017 – $1,380
These funds will support the community initiative to upgrade the playground equipment at BICS.
Bowen Children's Centre: No Child Left Behind and Preschool Summer Camp Bursary – $1,620
This grant will support programs to make summer day camps more accessible.
Under the 'No Child Left Behind' program, five children will be supported for the summer of 2016. Specifically the funds will allows Bowen Children's Centre to hire support workers for children with extra needs. The funds for the bursary will enable 2 preschool aged kids to attend a week-long half day camp this summer. This is the first bursary of this kind on Bowen Island.
SKY (Seniors Keeping Young): Bi-monthly Community Lunch Program – $3,000
These funds will enable SKY to hire a professional chef to prepare soups for the bi-monthly community lunch program. This grant represents true community collaboration with five organizations working in partnership: SKY, the Legion, Snug Cove House Caring Circle, and the Little Red Church. About 45 people access each community lunch and that number is growing. The program is in its first year, and the growth has been significant as word gets out.
Environmental sustainability grants
Bowen Heritage: Demonstration Garden Improvements – $500
This grant will enable Bowen Heritage to pursue their plans for the summer, which include:
Restoring their mason bee population
Expanding the composter demonstration capacity
Replenishing soil in the Community Demonstration Garden
Clean Energy Canada: Solar Panel Installation at Bowen Island Community School – $6,500
This grant contributes to the fundraising efforts for the project by Clean Energy Canada (CEC), in partnership with BICS and the West Vancouver School District, getting it closer to the finish line. With the $12,500 previously awarded by the Community Foundation in Fall of 2015, the project is now only $6,000 from completion. The solar panels will be gifted to BICs, and the project will include blending the learning from the solar panels into curriculum in myriad ways, with Clean Energy Canada's support. The total cost of the project is $50,000, with  $25,000 being offered by a private donor to CEC's Solar Now! Project, provided that Bowen Island can match that amount. Once all of the project funds are in place, the solar panels will be installed.