The Bowen Island Community Foundation's success relies on a hardworking, passionate, and stable Board of Directors who collectively offer a range of relevant skills and knowledge to the Foundation's mission and strategy.

Kate Thomas-Peter, Chair
Kate is now semi-retired as a Director in the Child and Youth Mental Health Programs at BC Children's Hospital.  An experienced children and families social worker in the UK, Kate has managed and directed special projects in healthcare since coming to live in Canada.  Her work has always been in public sector services with opportunities to teach and train others in her field of work.  Over the last few years, Kate has developed a special interest in mentoring new and emerging leaders.  British by birth, Kate married Brian, a Canadian and, with their children grown up, decided to strengthen their connection to Canada.  They discovered Bowen Island and moved to live here in 2010.  It was a good decision and Kate has enjoyed living in and contributing to the Bowen community since then.  She is an experienced not-for-profit Director, being on the Board of the Pacific Post Partum Support Society and on the Board of The Hearth (Bowen Island Arts Council).
Richard Smith, Vice Chair
Richard Smith is a Professor in the School of Communication at Simon Fraser University. Smith's research focus is social inclusion (and exclusion) brought on by the introduction of new media. He has an ongoing interest in technology for education, privacy and surveillance in public spaces, online communities, and the wireless information society. With academic training in communication and law, Dr. Smith has degrees from Carleton University (BA) and Simon Fraser University (MA and PhD). He is a member of the Canadian Communication Association and former publisher of the Canadian Journal of Communication. He has lived on Bowen Island since 1995 with his wife Deborah Kirby and their two children Eleanor and Maxwell (now grown and living off island).
Leila Swann, CPA, CA, Treasurer/
Secretary
Leila lives on Collins Farm with her husband and their two young children.  She has lived on Bowen all her life, excluding five years in Penticton where she articled for her CA.  Now a CPA with over 15 years' experience between industry and public practice, she began her accounting career at a medium-sized firm doing audit and assurance for municipalities and First Nations, and has worked with owner-managed businesses of all sizes covering a range of industries including wineries, retail, manufacturing, insurance, trades and construction, as well as e-commerce. Leila started her working life on Bowen at 13 as an ice cream scooper at Union Steamship Marina and worked her way up to management there.  She also worked in many of Bowen's restaurants including Doc Morgan's and the Tuscany.
Henry Campbell, Director
A lawyer, writer, and lover of beaches Henry has lived on the island since 2015 with his wife and (since 2017) his son. Henry's legal experience spans everything from cattle rustling to wrongful dismissal cases. Since 2018 he has pursued his true passion, screenwriting, by studying at the University of California at Los Angeles and the prestigious Canadian Film Centre in Toronto. He's also a director of the Jump Current Performance Society in Vancouver. In his spare time he kayaks, hikes, camps, and rides his motorcycle (though not all at the same time).
Gayle Farrell, Director
Gayle, her husband Bohdan and their very friendly Bernese Mountain dog Gracie moved to Bowen Island in spring 2022. Since then, she has greeted each day with deep gratitude that they chose Bowen and Bowen chose them.
Gayle continues to marvel at the fact that no matter how many times they take the same beach walk or forest hike there's always a new discovery to enjoy. Gayle was first encouraged (voluntold?) to volunteer by her parents at the age of 8 in her hometown of Montreal and has continued these activities as she moved first to Toronto then to Vancouver and now to Bowen.
In her day job, Gayle works for Siena Consulting, a company she founded in 2000 that focuses on strengthening not for profit organizations so they can continue to create and deliver programs that enhance the quality of life in their communities. She has also facilitated consultations involving public, private and social profit sector representatives supporting the reimagination of primary health care in BC.
Gayle has four children and two grandchildren who live in the Lower Mainland and who are becoming increasingly frequent visitors who are absolutely thrilled to have a place to stay on Bowen Island.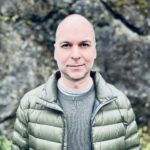 Greg Gibson, Director
Greg has been a full-time Bowen resident since 2020, when he moved from the city with his partner, Brian, and their standard poodle, Olive, after having visited the island regularly for more than a decade.
Holding an MA in art history and a bachelor's degree in graphic design, Greg has worked in arts, culture, and publishing for more than twenty years. Currently, he advises undergraduate students and manages academic programs in the Department of Art History, Visual Art and Theory at UBC Vancouver. He has been a freelance book editor since 2005, specializing in books about art, artists, and gallery exhibitions.
Since 2015, Greg has devoted his volunteer efforts to the loan review and translation program at Kiva, a San Francisco-based non-profit dedicated to economic empowerment and making a more financially inclusive world. He also sits on the board of the Cates Hill Neighbourhood Association.
When not working, Greg can often be found in the garden, walking Grafton Lake with Olive, reading books about local history, or trying to learn French.
Leah Gregg, Director
They/She

Leah is a champion of positivity, enthusiasm enthusiast, and passionate about positive social change. While being pretty new to Bowen Island / Nex̱wlélex̱m, Leah already has a deep appreciation of the island's connection to nature, thoughtful tight-knit community, and quirky spirit.
Over a 20-plus year career in communications, Leah has been fortunate to work with some of the world's most recognized brands, most recently raising awareness for non-profits by doing things like using art to raise money for the Vancouver Food Bank, and sharing the stories and photos of newcomers to Canada with the National Film Board. Leah's work has been recognized by The Webby's (like The Oscars for the Internet) and a bunch of even nerdier places you've probably never heard of.
When not working, you'll find Leah on the Lake Loop with pups Miso The Corgi and Vera The Honey Buns, on the pitching mound for The Basecombers (part of the Bowen Island Slopitch League), volunteering with the Bowen Island Trail Society, or on a bike ride with her awesome wife Jen.
Jan Seaman, Director
Jan has been a full-time resident of Bowen Island since 2013.  She made the island her retirement home following a highly successful 27-year real estate career in Kelowna.  In her rare spare time, she also co-created the Spirit In Action Athletic Program that sponsored youth sports teams to travel, deliver donated equipment, and conduct camps for less fortunate children.   Her desire to have a continued purpose, contribute to community, and fulfill a lifelong desire to work in the medical field led to her making a mid-life decision to become a qualified caregiver.  She graduated with honours from the Capilano University program and joined Vancouver Coastal Health where she passionately cared for Bowen Islanders for 5 years.  In 2020 she accepted a new opportunity as the Operations Manager of Bowen Waste Solutions.  However, despite this career change, she remains closely connected to Vancouver Coast Health and continues her commitment to developing most effective care giving for our community.  Not surprisingly, her motto is… "pay it forward and hopefully make a difference in people's lives".
David Verlee, Director
David has lived on Bowen since 2005 with his wife Elena and their sons Paolo and Miguel. With a couple of his friends, David started the Bowen Island Football Club (BIFC) and was on the Board and President of the club for a number of years.
David brings extensive international and entrepreneurial experience to the Board. He began his career as a journalist creating in-depth economic reports on developing countries for the Observer of London newspaper. During this time, he lived in India, Malaysia, Vietnam, Indonesia and the Philippines.  After moving back to Canada, he worked with a management consulting firm where he focused on helping S&P500 clients dramatically improve their performance and results. However, the lure of entrepreneurship was too strong, and in the last two decades, David has created and sold a number of companies in technology and e-commerce, and is currently managing and growing a mid-sized manufacturing company.  David just loves the outdoors and can either be found skiing, kiteboarding, cycling around Europe or learning to play golf. David is so looking forward to giving back to what this beautiful island has given him and his family over the years.
Holly Graff, Past Chair
Moving to Bowen from the US in 2003, Holly found something here that she didn't know she was looking for – a caring and connected community. An added bonus was meeting her husband, artist David Graff. Holly brings more than two decades' worth of experience in strategic communications – from Washington, DC with a full range consulting services firm specializing in executive education for senior government officials from developing countries, to media management on a major motion picture documentary release. She is currently managing director for an independent boutique life insurance firm in Vancouver. Other recent endeavours include investor relations for a $10 million software start-up for global relief supply chain management. Throughout this time, she has consistently written for thought leaders about emerging multifunctional business issues that shape the global environment. Numerous articles, books and op-ed pieces published in the Huffington Post, LA Times, CNN, Harvard Business Review and University Presses. A Canadian resident, Holly was born in the United States, and grew up in South Africa.
---
Martina Iring, Administrator
Martina grew up in North Vancouver and has been living on Bowen since 2015. She has a B.A. in History from SFU and a Management Certificate in Marketing Communications from BCIT. She has worked in international education and ESL, marketing (including running her own consultancy), and early childhood education (you may recognize her from BCC). After a stint with a large non-profit on the North Shore, Martina is thrilled to be back on island working for a Bowen organization that does so much good for the community. Martina is in her happy place when surrounded by trees and has a passion for travel (having visited 35+ countries) and practicing her language skills in French, Spanish and Slovak.