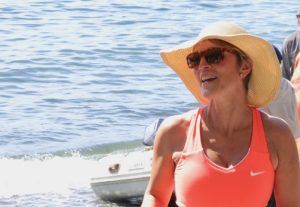 In 2013, when she was recovering from breast cancer, Mary Letson decided that she wanted to create an event that would help others go through what she had just experienced. At the same time, with a little nudging from her partner Cam, she recognized that her initial enthusiasm was a little misplaced – this was still a time to rest and to recuperate, not to take on another project.
But in 2018 she made good on this early promise, holding SwimBowen, an open water swimming event that supports Bowen Islanders going through active cancer treatment (swimbowen.com). On July 20, Swim Bowen will return for its second year, with $8,000 already raised for this highly laudable charitable purpose.
The Swim Bowen Society and Cancer Care Fund has provided and will continue to provide bursaries of between $1,000 and $1,500 for those whose expendable income does not cover the costs of self care. The application form guarantees confidentiality to those who apply, and the funds can be used for any purpose that eases the burdens of active cancer treatment: medications not covered by MSP, food delivery, physiotherapy, and massage are just a few of the possibilities.
The Community Foundation is very pleased to have Mary Letson as one of our Ambassadors – an individual who has personally invested her time and energy in charitable giving – and to a kind of giving that provides support for those who are facing life altering illnesses. We are more than fortunate to have her aboard.
Neil Boyd, Director
Bowen Island Community Foundation
published July 01, 2019
Bowen Island Undercurrent